Alabama Department of Transportation Makes the Most of EPAct Compliance Efforts through E85 Use
Going the extra mile is not always easy, but Alabama Department of Transportation (ALDOT) Equipment Bureau's commitment to alternative fuels has allowed the fleet to significantly reduce its petroleum use and operating costs.
ALDOT's mission is to offer reliable, safe, and environmentally conscious transportation for its employees. This mission set the stage for the fleet to achieve success in exceeding its requirements under the U.S. Department of Energy's Energy Policy Act (EPAct) State and Alternative Fuel Provider Fleet Program. Established by EPAct, the program requires covered fleets to acquire alternative fuel vehicles (AFVs) as a certain percentage of their annual light-duty vehicle acquisitions, or to employ petroleum reduction methods in lieu of acquiring AFVs. ALDOT's efforts show what fleets covered under the program can do to achieve the same results.
Since 2007, ALDOT has made a concerted effort to shift from using conventional gasoline and diesel in its vehicles. The decision to transition to using alternative fuels was easy, according to Stan Carlton, equipment management coordinator. In addition to ALDOT's compliance requirements, Carlton notes, "[We] had an interest in reducing fuel costs and eliminating some of the demand on foreign fuels."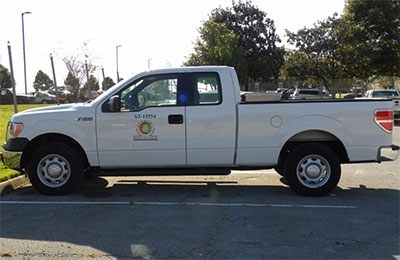 While the initial decision to incorporate alternative fuels into a fleet requires effort and some investment, ALDOT's achievements were made possible by a dedicated management team, organized fleet maintenance efforts, and open communication with drivers. More than half of the fleet's 3,300 on- and off-road vehicles are flexible fuel vehicles (FFVs) powered by E85 (roughly 85% ethanol blended with 15% petroleum). The fleet also operates many of its medium- and heavy-duty vehicles on B20 (20% biodiesel blended with petroleum diesel). Not only did ALDOT deploy a large AFV fleet, but it adapted a portion of its fueling infrastructure to dispense E85 and B20 and established a successful fuel quality monitoring and treatment program. These efforts have made ALDOT a leader in alternative fuel use among all state transportation department fleets.
Complying with Program Requirements
ALDOT operates vehicles across the state to provide services, including road and infrastructure improvements. The fleet has been covered under the EPAct program since model year (MY) 1997, and found it was most successful in meeting program requirements by acquiring FFVs. As such, Standard Compliance, which focuses mainly on AFV acquisitions, has proven to be the best option for the fleet.
The fleet's statewide AFV contract allowed ALDOT to transition almost all of its passenger vehicle fleet to FFVs. In addition to consistently surpassing its light-duty AFV-acquisition requirements, ALDOT also earns additional credits by purchasing medium- and heavy-duty FFVs. "We made a decision several years ago to get away from diesel engines in all of our vehicles under 16,000 GVWR [gross vehicle weight rating]," explains Carlton. "We now only have a few pickup trucks running on diesel—but not many at all." As of February 2017, 1,158 of its 1,341 light-duty vehicles and 151 of its 567 medium-duty vehicles were FFVs, including passenger cars, sport utility vehicles, cargo vans, minivans, and pickup trucks.
Looking to further advance its petroleum reduction efforts, ALDOT began using B20 in its medium- and heavy-duty vehicles in MY 2008 to help meet program requirements, with 66 of these 1,212 units running regularly on the fuel and the promise to add more in the future.
Exceeding Program Requirements
The EPAct program does not currently require state fleets to use the alternative fuels in their AFVs, but ALDOT's dedication to reducing petroleum use extends far beyond meeting its program requirements. In 2007 the fleet began fueling its FFVs with E85 in large volumes, even though the fuel was not widely available in the fleet's operating area. To support its growing AFV fleet, ALDOT has installed eight private E85 fueling stations throughout the state—one of which also carries B20. Similar to ALDOT's AFV statewide vehicle purchasing agreement, these fueling stations were made possible by a statewide contract. In 2016, the fleet used 166,264 gallons of E85 and purchased 44,408 gallons of B20. While some vehicles fuel at public stations when away from their home base, ALDOT fueling stations are responsible for approximately 95% of its AFV fleet fueling.
Overcoming Challenges
The process of deploying an AFV fleet was not free of obstacles. For example, the fleet initially experienced fuel quality issues, as well as problems with water contamination of the E85 in the vehicle storage tanks, when ALDOT began to introduce E85 into vehicles that had never operated on the fuel before. ALDOT overcame this hurdle by hiring a fuel quality management contractor that provides fuel additives and fuel testing services and by educating and training ALDOT's E85 fueling station operators. These efforts help ensure a consistent fuel quality so the issues the fleet originally experienced do not recur.
When ALDOT began using E85, the fleet also noticed a slight decrease in fuel economy compared with when it used conventional gasoline. Carlton, however, is more than satisfied with the fleet's decision to transition to E85. "We expect that the point spread in price offsets any difference in fuel economy—and you also get better vehicle performance from ethanol's higher octane rating."
As for ALDOT's B20 use, the fleet initially encountered some cold weather operability issues. This led to ALDOT taking a closer look at its internal fuel specification to assess how it could better suit the fleet's needs. Revising the fuel specification resolved many of these issues because the fleet was able to find B20 that could withstand colder temperatures. ALDOT now uses B20 year-round in the southeastern part of the state.
The fleet's commitment to its alternative fuel use goals, and the many benefits reaped from its use of E85 and B20, helped ALDOT stay the course through these challenges.
Planning for Future Petroleum Reduction
ALDOT has paved the way for other fleets to follow suit in deploying AFVs and increasing alternative fuel use, while reducing petroleum demand and fuel costs. ALDOT credits much of its success in using E85 fuel to its fuel-quality management contractor as well as to its statewide purchasing contracts for AFVs and fueling equipment. Carlton recommends that fleets look into hiring a fuel-quality management contractor that can do quality testing and fuel treatment to make the transition to alternative fuels as seamless as possible. He stresses the importance of a detailed fuel specification to assure fuel quality and, subsequently, optimal vehicle performance. Carlton also advises that fleets ensure that storage tanks are E85-compatible to avoid issues with corrosion and fuel leakage.
Moving forward, Carlton is optimistic about new opportunities for ALDOT to expand its alternative fuel use. The fleet recently discussed using propane to fuel its off-road equipment. Carlton has also expressed interest in piloting an all-electric vehicle program with ALDOT's local motor pool. In addition, the agency is expanding its alternative fuel use into other modes. The U.S. Environmental Protection Agency recently awarded ALDOT a Diesel Emissions Reduction Act (DERA) grant to replace a diesel ferry providing service between Camden and Gee's Bend with an all-electric ferry—the first of its kind in the United States.
More Information
For more information about ALDOT's alternative fuels and advanced vehicles deployment efforts, contact Kris Rodgers, administrative support assistant, at 334-242-6067. For more about ethanol and biodiesel blends, visit the Alternative Fuels Data Center. To learn more about complying with program requirements, see EPAct Compliance Methods.