California's State Fleet Electrification Journey
California's state fleet began its electrification transformation in 2012, and a lot has changed since then. New electric vehicle (EV) models are entering the market regularly, more federal funding is available than ever before for EVs and EV charging infrastructure, and more states are implementing goals and mandates to support fleet electrification. These changes are encouraging state fleets to look more closely at how best to integrate EVs into their fleets and deploy sufficient EV charging infrastructure to support these vehicles.
The State of California is a leader in this effort. The California Department of General Services (DGS) has developed robust processes to help its state agencies purchase EVs and develop the infrastructure necessary to charge these vehicles, enabling the state fleet to consistently exceed its Energy Policy Act (EPAct) alternative fuel vehicle (AFV) acquisition requirements in recent years.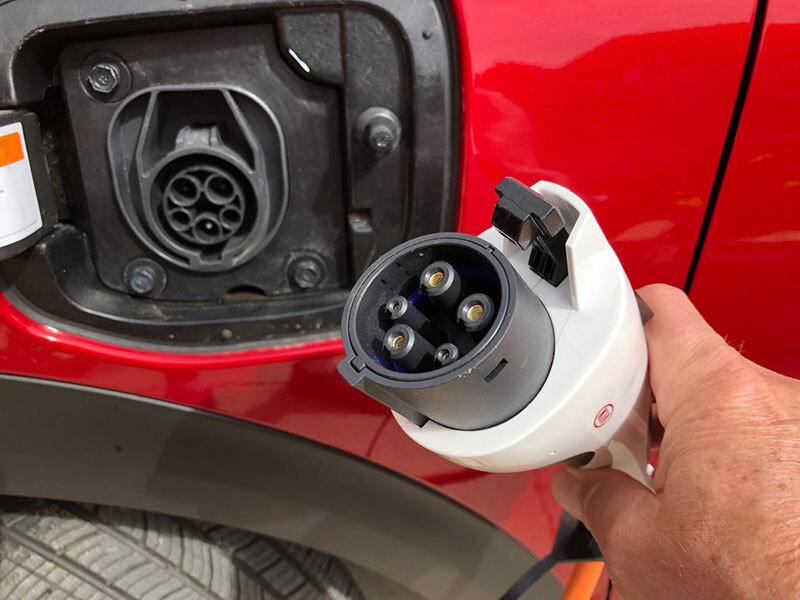 Key Takeaways
California's Zero-Emission Vehicle (ZEV) mandate jump-started state fleets' ZEV acquisitions, and subsequent DGS-issued policies have had the support of the State's administration, which is critical to ongoing success.
Having a centralized purchasing and policy-making authority for the state fleet is essential to enforce ZEV purchasing mandates and policies.
State support for fleets through a statewide vehicle purchasing contract, which has been made more flexible over time, has enabled state agencies to acquire ZEVs that meet their operational needs.
Making charging infrastructure central to the State's ZEV policy enabled fleets to seamlessly implement EV adoption.
Leveraging its broader state electrification priorities, the State was able to use its efforts to also meet its EPAct AFV acquisition requirements.
EV Procurement
California's targeted policies have been integral to the success of state fleets implementing EVs. State and federal programs are helping fleets navigate the challenges that arise along the way.
Factors for Success
Former California Governor Edmund "Jerry" Brown Jr.'s 2012 Executive Order (EO) B-16-2012 was key to kick-starting electrification of the state fleet. Subsequent policies issued by DGS expanded the ZEV purchasing requirements first set by EO B-16-12. Today, EO B-16-2012 and these DGS policies require that ZEVs will comprise 50% of the California state fleet's annual non-public safety, light-duty vehicle (LDV) acquisitions by 2025.1
Essential to complying with EO B-16-2012 is the DGS Office of Fleet and Asset Management (OFAM), which serves as the statewide control agency for the state fleet, setting statewide policy and approving all fleet acquisition plans. DGS' authority to regulate ZEV purchases for other state agencies has been a key driver of the state's fleet electrification efforts. With that authority, OFAM has implemented policies to help fleets adopt ZEVs and therefore comply with EO B-16-2012, as outlined below:
"ZEV-first" policy: OFAM's "ZEV & Hybrid First Purchasing Mandate" for LDVs (i.e., gross vehicle weight rating of 8,500 bs. or less) provides agencies with clear guidance on how to approach their ZEV acquisitions by requiring that agencies prioritize their vehicle acquisitions in the following order: ZEVs, plug-in hybrid electric vehicles (PHEVs), hybrid electric vehicles, and then bi- or flex-fuel and internal combustion engine vehicles as a last resort.2
Fleet acquisition plan: Each agency must compile an annual fleet acquisition plan for OFAM's review and approval, and agencies must justify in their plan any acquisitions of LDVs that are not ZEVs. This assists agencies with planning, helps them incorporate a relevant decision-making approach that encourages them to acquire the most fuel-efficient vehicles possible, and ensures that the state is meeting its overall ZEV acquisition targets.
Increased ZEV availability via statewide contract: DGS adjusted its statewide vehicle purchasing contract model in 2018 to award multiple vehicle makes and models to each contract line item, providing state agencies with as many ZEV model options as possible. DGS scores each LDV based on multiple factors, including maintenance plan pricing, fuel costs, and greenhouse gas emissions, to determine whether to add the vehicle to the contract. Previously, DGS awarded just the highest-scoring vehicle for each contract line item. DGS now also awards vehicles that score within a certain percentage of the highest-scoring vehicle. Further, this contract is available to municipal and county fleets in California as well to help them in their electrification efforts.
Overcoming Challenges
As the ZEV market continues to mature, two challenges that OFAM and other California state agencies have encountered are the incremental capital costs of ZEVs compared with internal combustion engine vehicles and the limited availability of ZEVs in the market.
To help offset increased capital costs of ZEVs, state agencies can take advantage of the California Air Resources Board's Clean Vehicle Rebate Program and the Hybrid and Zero-Emission Truck and Bus Voucher Incentive Project. The Clean Vehicle Rebate Program offers rebates of up to $7,500 for the purchase or lease of eligible light-duty EVs, PHEVs, and fuel cell electric vehicles based on income eligibility requirements, and the Hybrid and Zero-Emission Truck and Bus Voucher Incentive Project offers point-of-sale discounts for eligible medium- and heavy-duty EVs and fuel cell electric vehicles.3,4
To address the issue of ZEV model availability with necessary capabilities and specifications to meet fleet needs, OFAM's ZEV-first policies allow for exemption requests for each vehicle category priority level. Although exemptions do not help fleets increase the number of ZEVs in their fleets, the process pushes them to acquire the next most fuel-efficient vehicle available to meet their operational needs and help meet their acquisition requirements. More recently, the availability of ZEVs has been impacted by the COVID-19 pandemic and the resulting supply chain issues. To help state agencies with vehicle acquisition timelines and planning, OFAM coordinates weekly updates from the OEMs on upcoming open purchasing windows, purchase order deadlines, and potential cancellation of orders due to production issues.
Charging Infrastructure Development
What began as a grass roots approach to developing charging infrastructure led to a statewide initiative to guide development, provide funding, and streamline the process for installing infrastructure.
Factors of Success
When California's state fleet first began transitioning to ZEVs, the responsibility and funding for charging infrastructure was decentralized across state government. Each state agency was responsible for funding and installing its own charging infrastructure. As more state agencies began to acquire more ZEVs due to the state's ZEV-first policy, ZEV purchasing requirements, ZEV Action Plans and Executive Orders, and in response to the administration and DGS' leadership, the California Legislature began to appropriate general funds to DGS Office of Sustainability (OS) to support the installation of EV charging infrastructure, which eventually led to the creation of the Clean Transportation Unit within the OS. The OS Clean Transportation Unit now plays a leading role in funding and overseeing the installation of charging infrastructure projects for California's state ZEV fleet as well as workplace charging for state employees.
State agencies must be able to demonstrate through the fleet acquisition plan process that they will have the necessary charging infrastructure in place prior to approval for procuring new EVs. It is the Clean Transportation Unit's responsibility to review fleet acquisition plans and help agencies get charging in place or otherwise to access nearby public charging.
EV charging projects at a state-owned facility start with an assessment and feasibility study of the facility, which includes determining how many charging stations are needed, understanding the facility's current electrical capacity engaging electric utilities early in the process, and ensuring required compliance with the Americans with Disabilities Act. OS then manages the project from start to finish, including purchasing the charging hardware from a statewide vendor and installing the infrastructure. Once the installation is complete, it is up to each agency to operate and maintain the charging infrastructure.
As of May 2023, the Clean Transportation Unit has managed the installation of 2,846 Level 1 and Level 2 charging ports, including over 1,300 ports for fleet vehicles and more than 1,400 ports for state employees. OS has not yet installed any direct-current fast charging ports but does have a few projects in the works and expects more in the future, particularly to support medium- and heavy-duty ZEVs.
Overcoming Challenges
In OS's experience, EV charging infrastructure development projects with Level 2 chargers can take up to 12 months—longer if new or upgraded electrical service is necessary at a facility. To help shorten this timeline, in 2021–2022 OS streamlined several internal processes, including its site assessment report template, invoicing, and all other internal paperwork. OS also streamlined its project specifications and established routine meetings with client departments, A&E firms, and vendors to help facilitate communication and coordination of projects. Finally, OS developed training materials to ensure all current and future staff are trained to follow the most efficient project management protocols.
Satisfying EPAct Requirements
Over the recent several years, California's state fleet has leveraged its state electrification priorities to help meet its EPAct AFV acquisition requirements. Although the fleet continues to acquire flex-fuel vehicles, which in the past was its primary means of compliance, an increasing percentage of its AFV acquisition requirement is satisfied by acquiring light-duty EVs and PHEVs. In model year (MY) 2019, the fleet met 38% of its AFV acquisition requirement through EVs and PHEVs. This rose to 52% in MY 2020 and 73% in MY 2021. The fleet has also taken advantage of the option to earn credit toward EPAct compliance for the expenditure of funds for the installation of public and private EV charging stations and has earned the maximum amount of infrastructure credits annually (10) for each of the last three model years.
Recommended Practices
State mandates have clearly accelerated California's state fleet electrification efforts. Fleets in states without similar mandates may want to consider implementing internal purchasing guidelines similar to California's ZEV-first policy to facilitate their own fleet transitions. Based on California's experience, such mandates can encourage fleets to acquire EVs and still allow for flexibility to purchase PHEVs, hybrid electric vehicles, other AFVs, and, finally, conventional gas and diesel vehicles where necessary. These types of guidelines serve as an incremental method for incorporating EVs into a fleet while also helping to satisfy EPAct requirements and meet other transportation emission reduction goals. As an additional step, state fleets may consider employing internal ZEV acquisition targets to serve as a roadmap. For example, in its Climate Action Plan, the State of Delaware committed to replacing 20% of its light-duty fleet vehicles with EVs and PHEVs by 2025, which is projected to amount to over 550 vehicles and would reduce emissions by 1,300 metric tons of carbon dioxide equivalent.5
EV charging infrastructure is equally important to ensure fleet mission capabilities. The requirement that California state agencies' ZEV orders are reviewed each year prior to approval of their fleet acquisition plan ensures that adequate charging infrastructure is in place or that there is nearby public charging to support new EV acquisitions. This approach in turn helps make sure that agencies are capable of charging new EVs upon acquisition and that the vehicles will meet mission responsibilities.
California's focus on including multiple ZEV offerings in the state vehicle contracts affords flexibility to agencies by allowing for a greater number of ZEV options for fleets. This step can be especially useful as the ZEV market continues to mature and additional vehicle model offerings are brought to market.
In sum, ZEV acquisition guidelines and targets, a holistic approach to ZEV acquisition and infrastructure development, statewide agency vehicle procurement approval, and the implementation of more flexible vehicle contracting practices have led to successful EV adoption in California's state fleet and can serve as a valuable template for other state fleets seeking a recipe for success.
Looking Ahead
The goals for California's state fleet are supported by additional, existing state mandates in California, each of which will result in a greater percentage of light-duty EVs and PHEVs in the state's vehicle fleet. For example, in addition to the increasing acquisition requirements set forth by EO B-16-2012, California's Advanced Clean Cars II regulation requires that all new passenger cars, trucks, and SUVs sold within the state be ZEVs by 2035. These provisions apply to the state fleet. In November of 2021, the State of California also signed the Under2 Climate Coalition's ZEV Pledge for Public Fleets that sets aggressive goals to transition fleet composition where feasible to 100% ZEV by 2030 for buses and ATVs, 2035 for LDV and 2040 for medium- and heavy-duty vehicles. DGS OFAM is currently working on a new suite of policies to achieve the fleet electrification targets. Notably, these policies would set targets for the percentage of ZEVs in the fleet, in addition to longer-term fleet acquisition targets.
More Information
For more information about California's state fleet ZEV procurement processes, contact Tasha Wilson, Chief, Office of Fleet and Asset Management, California Department of General Services at tasha.wilson@dgs.ca.gov or 916-928-9863. For more information about California's state fleet charging infrastructure development processes, contact Jennifer Brennan, Chief Transportation Manager, Office of Sustainability, California Department of General Services at jennifer.brennan@dgs.ca.gov or 916-376-3863. For more information about ZEVs and charging infrastructure, visit the Alternative Fuels Data Center. To learn more about complying with EPAct program requirements, see the Compliance Methods page.